Reliable and Fast Emergency AC Repair Services in Tampa
Count on Sunrise Heat & Air for Professional Emergency AC Repair in Tampa.
Your Emergency Is Our Emergency
Our HVAC units go through a lot of wear and tear throughout the year. Unfortunately, your AC unit always seems to break down on the hottest day of the year. A broken air conditioner can become an emergency if your home reaches extreme temperatures.
At Sunrise Heat & Air, we'll do everything possible to get your air conditioning unit up and running quickly. Our air conditioning experts can solve any issues efficiently and quickly, typically during the first visit.
Whether you need a new system replacement or a few repairs, we've got you covered. Contact us today to learn more about our AC emergency repair services in Tampa.
Call Us Today: (727) 219-2389
Emergency Air Conditioning Repair Services When You Need It
Our air conditioning and heating repair experts are available seven days a week to respond to your emergency. We'll schedule an appointment as soon as it works with your schedule. We can also send out one of our AC specialists immediately if you have an emergency.
Our air conditioning experts have experience working with complete systems and components for all major models and make of air conditioners. Some of the things we have experience working on include central air conditioners, AC compressors, and evaporator coils.
A few common problems might result in your air conditioning unit failing. One of those items is improper maintenance. An annual maintenance visit is vital to the health of your air conditioner.
Another problem is that an individual who wasn't experienced with an hvac system repair worked on your air conditioner. Professional repair and maintenance are crucial for your AC. Expert service is needed to prevent future dangerous, costly, and inconvenient emergency repair services.
Aging cooling systems are more prone to malfunction or breakdown than newer air conditioning and heating. If the cost of repairs to your old unit is around 50% of the system's value, you might want to upgrade your unit.
How Our Process Works
Step One: Get in Touch 
You can contact our emergency AC repair experts at (727) 219-2389 24 hours a day, seven days a week.
Step Two: We Come to You
We'll head out to your location as quickly as possible to evaluate your air conditioning problems. All options come with upfront pricing.
Step Three: Enjoy Cool Air
Sit back and relax as our experts fix your air conditioning unit.
We had our AC quit on Friday evening. They were professional and responsive. Gave me all costs up front and I think the emergency charge was very reasonable. Everyone I dealt with was extremely caring. Great job! I highly recommend them.

Why Choose Sunrise Heat & Air
Sunrise Heat & Air only hires the most skilled and experienced HVAC technicians. You're guaranteed an exceptional customer service experience, starting with your initial phone call and ending with the final inspection.
If you're in need of emergency air conditioning company in the Tampa Bay Area, Sunrise Heat & Air is the company for you. With years of experience working with emergency services on all major models and makes of air conditioners, we have the knowledge and expertise to solve any issue efficiently and effectively, even if its simply an air filter. So don't suffer through another hot day without air conditioning – contact Sunrise Heat & Air today!
As Florida residents, we understand how catastrophic a broken-down AC unit can be. Your home can quickly reach dangerous temperatures with an ac repair. We strive to dispatch an expert to your home immediately, ensuring you stay cool, comfortable, and safe.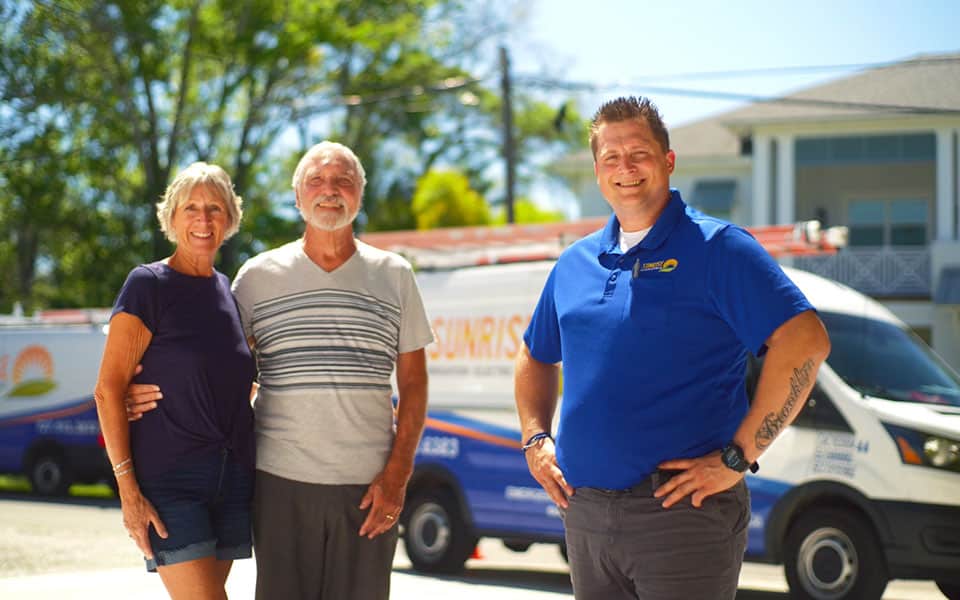 Do You Need an AC Repair Expert? Contact Us Today
Sunrise Heat & Air is here to provide emergency AC repair services in Tampa. Our AC repair specialists offer 24 hour emergency service in Tampa Bay.
Call Us Today: (727) 219-2389