AIR CONDITIONING DUCT WORK
Duct Installation, Repair, and Maintenance
Whether you're building a new home, remodeling an old one, or adding an extension, Sunrise Heat & Air is prepared to install ac ductwork, repair, and maintain your ducts.
How Do We Do It?
We offer superior quality ac duct installation, repair, and maintenance in different settings. This is made possible by the following:
Intensive and continuous training for our duct technicians

Fully-licensed and insured technicians

Most advanced tools and devices

Service vehicles that are stocked with the most important hardware

Competitive pricing

Upfront quotations

Satisfaction guaranteed results
Licensed HVAC Duct Company
Sunrise Heat & Air is the leading provider of duct services in Bay Area. We are standing on a 20-year legacy of honesty, competence, and genuine desire to help the community. It is our objective to help people have safe and comfortable living spaces at a competitive price. No matter the size, expect us to undertake the project with professionalism.>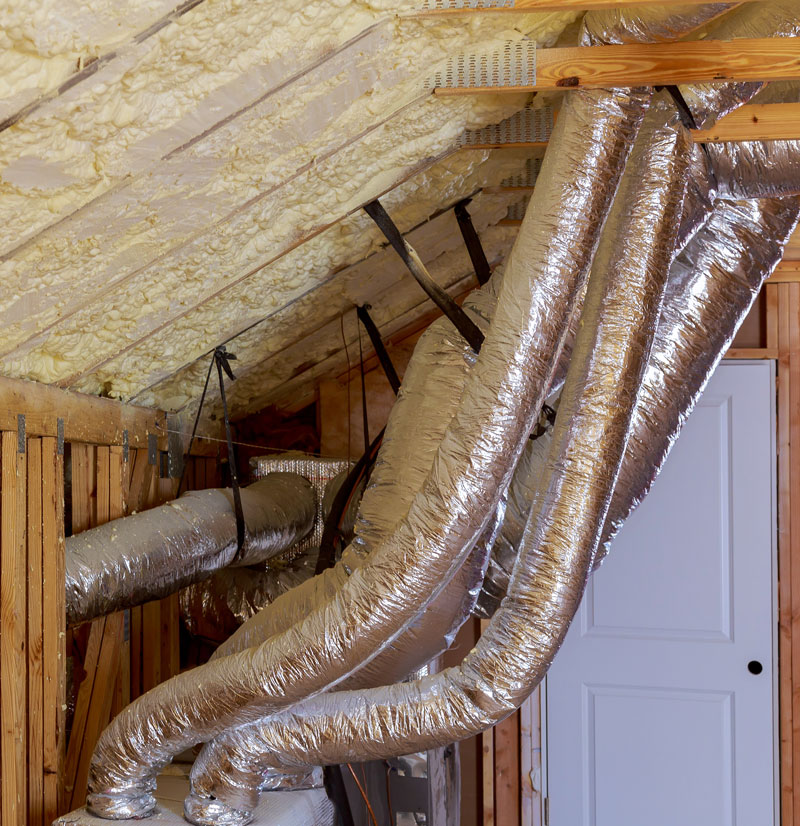 The importance of ductwork in your home
The ductwork in your home is a vital part of your HVAC system. Ducts are used to distribute airflow from your furnace or air conditioner to the different rooms in your house. The ductwork is typically made of sheet metal, but it can also be made of flex duct, fiberglass duct board, or even duct tape. There are several different types of ductwork, including round ducts, square ducts, and rectangular ducts. Some ductwork is even ductless, meaning it doesn't have any ducts at all. No matter what type of ductwork you have in your home, it's important to keep it clean and free of debris. Otherwise, the airflow in your house will be reduced and your energy bills will increase.
The airflow in your home is inconsistent.

Your furnace or air conditioner is running constantly.

You can hear noise coming from the ducts.

Your energy bills are high, even though you haven't changed how often you use your hvac.
Do Not Delay Air Conditioning Repair
Delaying AC duct repairs only worsens the problem. Forcing the unit to run when it already shows signs of breakdown will reduce its lifespan and increase repair cost. Call hvac duct repair professionals as soon as these signs become apparent. Sunrise Heat & Air is reachable 24/7 so they can respond to emergencies promptly.
Had sunrise replace our duct work, did an amazing job. Their professionalism is unmatched by any AC company. The quality and value of their service is top notch.

Most Common Ductwork Mistakes
Before you decide to take on the project yourself or hire JUST ANY duct company out there, know that these common mistakes often lead to inefficient cooling/heating and steep electric bills.
Insufficient Planning
The air conditioning ductwork layout should be based on the location of the heating/cooling equipment. It must be strategically installed so that the equipment won't have to work had to distribute air.
Forcing Ducts into Tight Spaces
There should also be enough space around the hvac ducts so that it won't bend or crack, which can cause air leaks.
Poor Sealing
Improperly sealed joints can reduce air flow or create entries for outdoor air and impair indoor temperature control.
Wrong placement
Ducts installed near exterior walls with poor insulation can absorb the temperature of the outdoors. The temperature of the ducts affects air that is blown to the interiors. Therefore, if the ducts are cold, the air that passes through them will also be cooled.
Wrong sizing
When choosing duct sizes you must consider the type of heating/cooling system that you're going to use. Location and load requirements must also be taken into consideration.
Not Enough Return Vents
The ductwork system must be installed with correct number of return vents in order to pull enough air back into the cooling/heating system and manage interior temperatures.
Why Hire Professional Duct Services?
Quality HVAC ductwork installation isn't cheap. But it is absolutely worth paying.
Here are the reason why you should hire a professional, like Sunrise Heat & Air:
Extensive Material Knowledge
Each material option comes with advantages and disadvantages. A professional knows how to weigh these in relation with your needs and budget.

Well-Connected to Trusted Suppliers
Professional duct services are connected with suppliers of high-quality materials. They don't just shop online using their phones during the afternoon break.

Minimal Disturbance
Ductwork is hidden behind walls, ceilings, and floors. Meaning, access can be complicated. Experienced individuals know how to get to them without creating a mess or damage to your property.

SAFETY. SAFETY. SAFETY.
HVAC professionals have undergone training on handling system components properly. They follow certain safety measures that untrained individuals could miss.

Properly Equipped
Professionals in the duct service industry use sophisticated equipment for safe and effective installation, repair, and maintenance. You might not find this equipment on local hardware stores.

Familiarity with the Processes
HVAC professionals have the processes involved in duct effective installation, repair, and maintenance entrenched in their lives. This is because they have gone through intensive training and numerous projects. They do not have to glance at the manual every 5 minutes.

Time Efficiency
Perhaps there are many other things that require you full attention. Instead of studying ductworks and gathering materials, hire a professional HVAC company. Experienced individuals, with their cutting-edge equipment and training, can accomplish the task within the most reasonable timeframe.

Guaranteed Work

If you commit an error while working on the ductwork, you will have to fix it yourself. This can be expensive and time-consuming.

With a professional ductwork service, you can sleep soundly at night knowing that the ducts are correctly installed, repaired, and maintained. If anything goes wrong within the warranty period, the duct service company will come to resolve it.

Professional technicians are also covered with insurance.

Free Suggestions
Community-oriented companies, like Sunrise Heat & Air, offer free suggestions when it comes to boosting the performance of your AC system and reducing energy consumption.

Knows the Local Rules and Regulations
Duct systems are inspected by authorities before the property is cleared for occupancy. When selling a property, you also have to present proof that the ducts are properly installed, repaired, and maintain. Professional duct services know every rule and regulation related to these tasks, and they stick to them.

Free Suggestions
Community-oriented companies, like Sunrise Heat & Air, offer free suggestions when it comes to boosting the performance of your AC system and reducing energy consumption.

What to Remember
Check the track record of the company you're eyeing. The length of time they've been in the business and the reviews of their previous customers already speak a lot about them.
AC Duct Frequently Asked Questions
Can mold grow in AC ducts?
Sunrise AC
2022-05-15T21:11:12-04:00
Mold growth is not likely to occur in ac ducts because ac unit air movement has to be extremely fast. If ac units are not functioning properly, mold can grow inside ac ducts. The use of an ultraviolet light can help eliminate biological growth.
When ac units are turned off, ac ducts become warm and humid, creating an ideal environment for household fungi, which can cause certain respiratory infections. Stagnant ac ducts also attract vermin such as moths and ants.
How do AC ducts work?
Sunrise AC
2021-11-17T13:43:13-05:00
AC units cool the air by passing indoor ac airstream over refrigerated coils that conduct heat inside ac units. The heat is expelled outside through cooling coils or ventilation louvers located on the back exterior section of each ac vent. The cooled air travels through metal ac ductwork to outlets throughout the house before it enters rooms at floor level or near floor level via diffusers attached directly to ac vents or indirectly by way ac unit returns.