HVAC Services In Holiday, FL
The air conditioning system of your home plays a vital role: it's designed to keep you and your family comfortable while indoors. But, when air conditioners fail, the cost together with the inconvenience can make it quite a frustrating experience for you. This is where Sunrise Heat & Air can help.
Our AC company in Holiday has a team of professional, licensed, and experienced air conditioning specialists that can eliminate the frustration of any AC problem you may have. These experts are available day or night to provide your household with quality and timely solutions that will restore your AC system to working order.
With our knowledge, expertise, and reasonable pricing, you can rely on Sunrise Heat & Air for all your air conditioning needs.
AC Repair in Holiday, FL
[toc]Sunrise Heat & Air can help if your air conditioning system is blowing hot air or not working at all. In terms of air conditioning, ignoring an issue like this could lead to costly problems in the future and reduce your home's comfort levels. As a result, spotting issues early on is essential to prevent them from becoming unfixable. We'll send an AC specialist to your home so they can diagnose the problem for you. When repair is deemed the best option, we'll ensure that the job is completed quickly and correctly. Each member of our team can perform AC repair on the spot.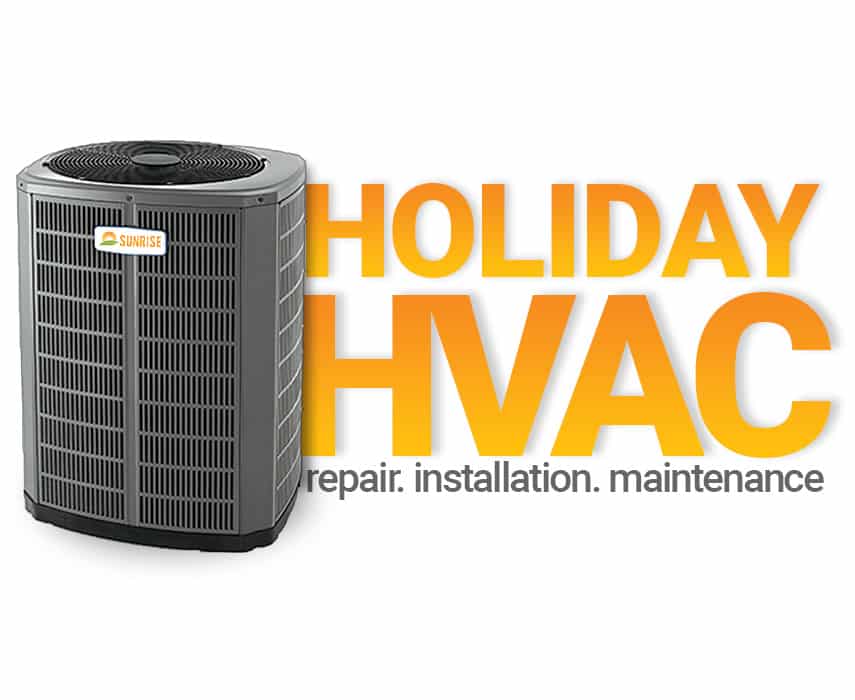 AC Installation in Holiday, FL
Perhaps your air conditioning system is so old or obsolete that it needs to be replaced to be more cost-efficient. If that's the case, our AC professionals can visit your home to help determine the right air conditioner for your household. We always keep the budget and preferences of our customers in mind.
AC Maintenance in Holiday, FL
Want to ensure that your AC system stays in great shape throughout the summer months? We offer a range of AC maintenance services to fit your requirements and budget. If you take good care of your air conditioning system, it will last longer, work better, and consume less electricity. It also helps your system remain efficient and dependable in the long run.
Signs You Need AC Repair Services in Your Holiday Home
If you're concerned that your AC isn't working as it should be, look out for the following signs before giving us a call:
Call Our Reliable AC Service in Holiday, Florida
When it comes to AC repair and AC replacement in Holiday, FL, you need to work with a company that is known for providing excellent solutions guaranteed to resolve your air conditioning issues once and for all.
At Sunrise Heat & Air, we've gained a reputation as an AC company in Holiday that provides all of our customers the best treatment possible. Many households within local communities trust us because we continue to provide them with reliable AC services.
Each of our AC specialists is licensed, qualified, and goes through regular training to stay updated on the latest developments in the industry. We'd be happy to work with you if you're looking for trusted AC repair in Holiday, FL.
Holiday, FL
Sunrise Heat & Air
4553 Grand Blvd Suite 250A
New Port Richey, FL 34652
P: 727-610-8890