HVAC Services In Indian Rocks Beach, FL
During the warmer months, you'll want to make sure your air conditioning is in top condition. Excessive heat can cause discomfort and even health problems. An air conditioning system keeps you comfortable and improves air quality. While most systems can last for years, careful maintenance is necessary to optimize their performance.
Not only that, several elements can affect AC, causing it to malfunction and break down. Sunrise Heat and Air is your top company for AC Repair in Indian Rocks Beach. Contact us to get a quote on our services.
AC Repair in Indian Rocks Beach, FL
[toc]Is the air blowing from your AC system warm? If so, that means trouble. Overlooking a problem like this with your air conditioner could lead to more expensive repairs down the road and impair your home's comfort. Due to this, early problem detection is critical to resolving them completely. Fortunately, Sunrise Heat & Air can help! An AC technician from our company can visit your home to check the situation. If repair is the only option, we'll make sure the job is done accurately and on time. Everyone on our team can perform on-the-spot AC repair.
AC Installation in Indian Rocks Beach, FL
Over time, an AC may become inefficient. Newer models use less energy and provide more power. Even after your unit has served you for many years, a replacement may be due. We'll help you update your system, ultimately saving you on costs.
With our years of experience, you can stay confident that you get the best quality work. To get a professional AC replacement in Indian Rocks Beach, FL, book an appointment with our team.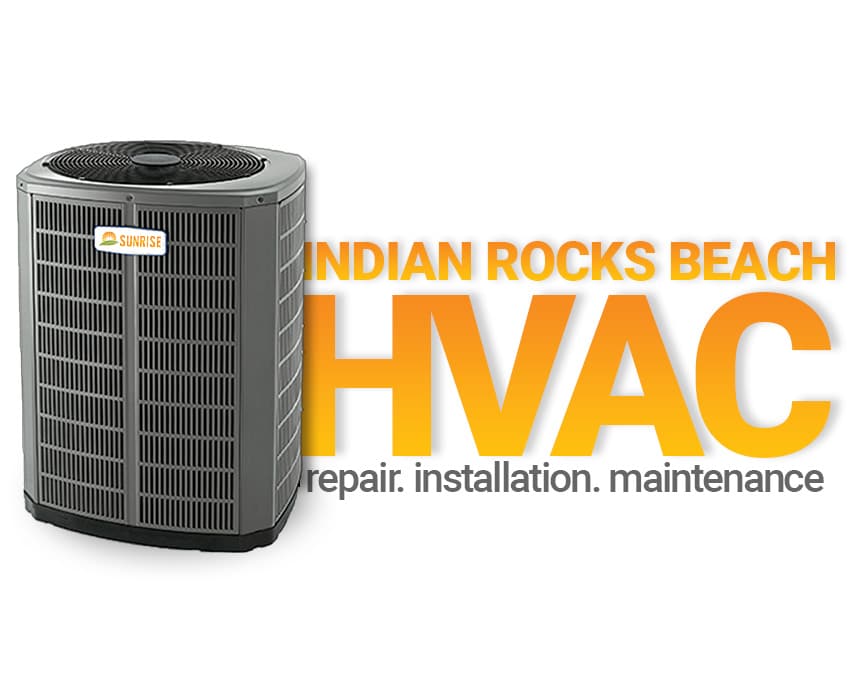 AC Maintenance in Indian Rocks Beach, FL
Do you want to keep your air conditioning system in top condition during the summer? Depending on your needs and budget, we can provide various AC repair and maintenance options for you. Your air conditioner will last longer, perform better, and use less energy if you look after it. By doing so, your system's efficiency and durability will be kept up over time.
Signs You Need an Indian Rocks Beach AC Service Company
You may begin to notice signs that your AC needs replacement or repairs. If you can identify these issues, you'll prevent any further discomfort. We can then resolve the issue before it becomes too costly. Some signs you need to take note of are:
Loud noise inside the AC unit

Water leaks around the AC unit

Increasing electricity bill

AC is not cooling as fast as before

The thermostat isn't working
If you notice any of these signs, don't hesitate to book an appointment with us. We can help you resolve that issue as soon as possible.
The Indian Rocks Beach AC Company You Can Trust
We provide comprehensive work spanning different AC systems at competitive prices. Our goal is to provide you with a service that gives you the confidence to trust us for life. Our team has trained extensively, possessing the skills and knowledge needed to provide superior AC service. They are also up to date with the latest practices.
If you're ready for AC services, contact us today. Sunrise is ready to serve you!
Indian Rocks Beach, FL
Sunrise Heat & Air
1301 Seminole Blvd #113
Largo, FL 33770
P: 727-610-8890