HVAC Services In St. Petersburg, FL
[toc]Your air conditioner plays an important role: It keeps your home cool and pleasant for you and your household. When your air conditioner stops working, it can be expensive and inconvenient. As such, you should get your air conditioner professionally maintained to keep it in good working order. At Sunrise Heat & Air, we make air conditioning repair, maintenance, and installation simple.
When it comes to diagnosing and fixing issues with your air conditioning system, our technicians have years of experience. After inspecting your AC system, we can create and execute a repair plan to address the present conditions while preventing future problems.
Get in touch or set up an appointment to book professional AC repair, installation, and maintenance services from Sunrise Heat & Air today.
AC Repair in St. Petersburg
If your air conditioner is spewing hot air or isn't functioning at all, Sunrise Heat & Air can help fix it. Unfortunately, this isn't just a case of a hot day in the summer. When it comes to air conditioning, neglecting a situation like this might lead to significant problems down the road and compromise the overall comfort of your home. That's why it's so essential to catch problems at an early stage before they get out of hand and become unrepairable.For help with an air conditioner that's blowing warm air or not working at all, contact the experts at Sunrise Heat & Air. The issue here goes far beyond a hot summer day. It has to do with your comfort at home and a concern that, if left ignored, might cause serious harm to your AC system. That's why it's so vital to spot problems early on before they get out of hand and become too difficult to remedy.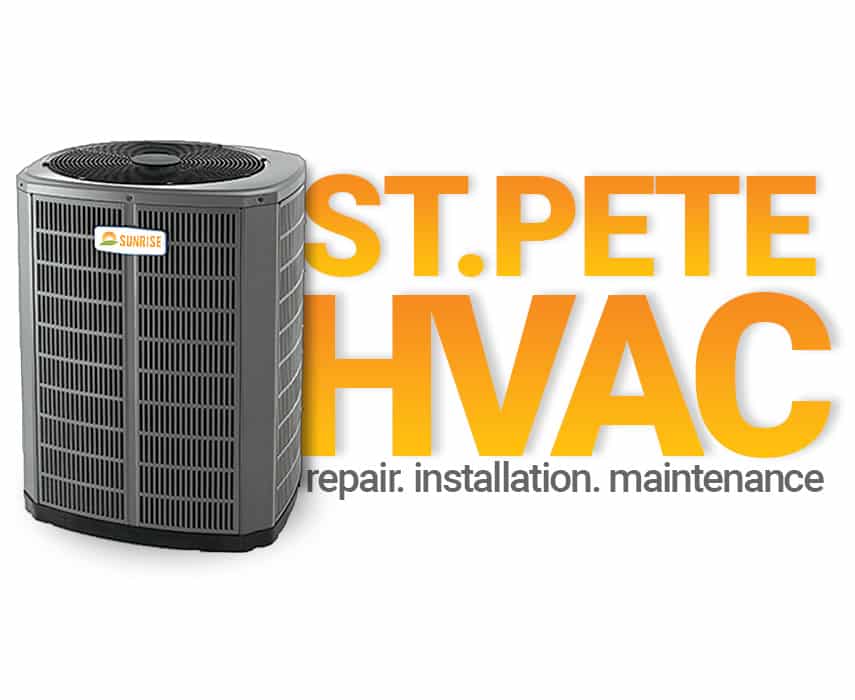 AC Installation in St. Pete
An outdated air conditioner may need to be replaced because of the cost, performance, or other factors. However, there is no such thing as a one-size-fits-all solution when selecting a new air conditioning unit. Allow our air conditioning experts to visit your home and assess which AC unit is ideal for you. We'll work together to ensure your budget and personal preferences are considered while also keeping your home's comfort in mind. You can count on us for AC replacement in St. Petersburg, FL.
AC Maintenance
It's crucial to maintain your air conditioning system to last longer, perform better, and save you money on electricity. Air conditioner maintenance is necessary to guarantee that your unit is efficient and dependable for many years to come. The US Department of Energy reports that by replacing filters regularly, homeowners can improve their unit's efficiency by 5 to 15%.
Warning Signs You Need Your AC Checked
Your air conditioning system might fail for a variety of reasons, some minor and others serious. In either case, you'll have peace of mind knowing that Sunrise Heat & Air has fully qualified repair professionals ready to help. Give us a call whenever your air conditioner breaks down; we'll come out right away and get it back up and running. Here are several signs that your air conditioner needs to be checked:
Air conditioner running at an unusually high volume

Indoor humidity levels that are suddenly higher than normal

The unit or vents are emitting an odd odor

Insufficient cooling caused by frequent on/off cycles

Poor circulation of air, or air that is warmer than normal

Water leakage surrounding the air conditioning unit

Various areas of your home have different levels of cooling
Give us a call at Sunrise Heat & Air if you're having trouble with your air conditioner. We are a St. Petersburg AC service company you can rely on to get your indoor comfort back on track when it comes to expert repairs.
St. Petersburg, FL
Sunrise Heat & Air
1116 Nebraska Ave. Suite 2
Palm Harbor, FL 34683
P: 727-610-8890