HVAC Services In Tampa, FL
Your air conditioning system is critical to the cooling and comfort of your house. When your air conditioner malfunctions, it can be both expensive and inconvenient. Keeping your air conditioner in tip-top shape means having it serviced regularly. If you're looking for dependable professional air conditioning repair, maintenance, and installation services, there's no need to look further! Sunrise Heat & Air has got you covered.
Our technicians are no strangers to air conditioning concerns; they've been assessing and fixing them for years. We can develop and execute a repair strategy after inspecting your air conditioner to resolve existing issues while preventing potential problems.
Please get in touch or book an appointment with Sunrise Heat & Air today and get the best professional AC repair, installation, and maintenance services.
AC Repair in Tampa
[toc]If your air conditioner is spewing hot air or isn't functioning at all, Sunrise Heat & Air can help fix it. Unfortunately, this isn't just a case of a hot day in the summer. When it comes to air conditioning, neglecting a situation like this might lead to significant problems down the road and compromise the overall comfort of your home. That's why it's so essential to catch problems at an early stage before they get out of hand and become unrepairable.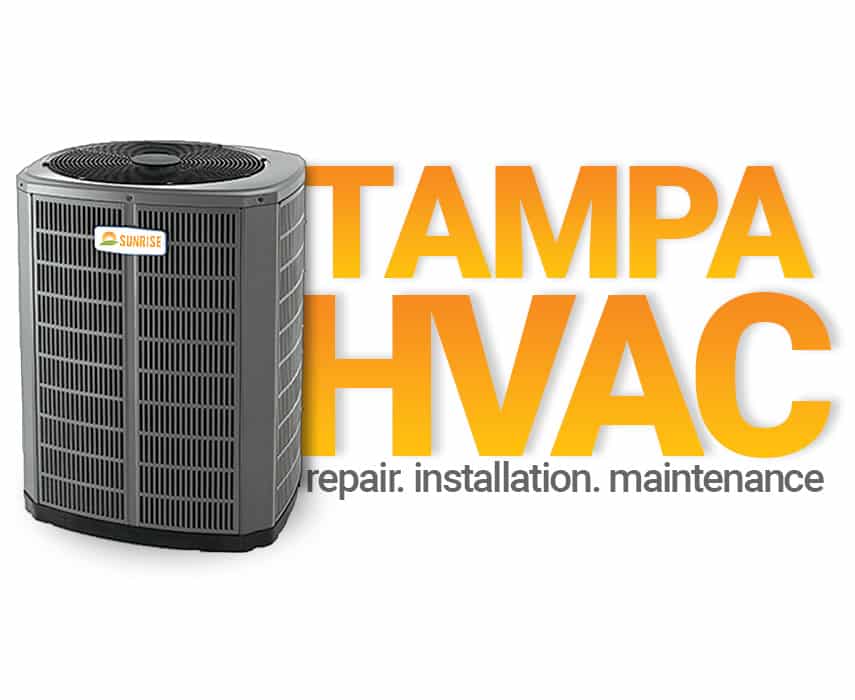 AC Installation in Tampa
Old air conditioners may require replacement if they are inefficient, perform poorly, or have other problems. However, there is no such thing as a one-size-fits-all solution when it comes to air conditioning. Contact us to have one of our air conditioning experts come to your house and assess your cooling needs. We'll make sure your preferences, budget, and household's well-being are all considered. When it comes to AC replacement in Tampa, FL, we are your best bet.
AC Maintenance
By keeping your air conditioning system in excellent shape, you can expect it to last longer, perform better, and use less electricity. It also contributes to the long-term efficiency and dependability of your system. For instance, the US Department of Energy estimates that homeowners may improve their air conditioner's efficiency by as much as 15% simply by changing their filters regularly.
Signs You Need to Have Your AC Checked
A variety of problems might cause your air conditioner to stop working, from the seemingly insignificant to the catastrophic. Sunrise Heat & Air's team of highly qualified repair technicians is always ready to help, no matter the scenario. If your air conditioner breaks down, give us a call, and we'll immediately send somebody over to repair it. Here are some warning signs that your air conditioner needs to be inspected:
The air conditioner is making a lot of noise

Humidity suddenly rising within your home

The unit or vents are releasing an odd smell

Insufficient cooling due to frequent on/off cycles

Lack of airflow or air that is warmer than average

Uneven cooling levels in various areas of the house
Call Sunrise Heat & Air if you're having issues with your air conditioner. We are a Tampa AC service company you can trust to get your interior comfort back to normal.
Tampa, FL
Sunrise Heat & Air
3750 Gunn Hwy Suite 104
Tampa, FL 33618
P: 813-669-3506